Flu packets for the upcoming flu vaccination clinic at Crossett Schools will be going home with students today and tomorrow. Please follow the highlighted instructions and return both signed forms as soon as possible if you would like your child to receive the vaccination. Failure to return both correctly completed and signed forms will result in your child not receiving the vaccine. Flu shots will be given at all Crossett Schools on Friday, October 7, 2022. Pre-K students MUST have a parent with them in order to receive the vaccination. Crossett High School students may pick up a flu packet in the front office.

October 1, 2022, is fast approaching. If you received a notification that your child is in need of a required vaccination, or a copy of his/her immunization record, please make arrangements to have that done as soon as possible. Per Arkansas state law, your child will not be allowed to attend school after September 30, 2022, without receiving the required vaccination(s), or an exemption letter from the Arkansas Department of Health.

Crossett Middle School will host a Title I meeting, Thursday, September 22, 2022 beginning at 5 p.m. in the cafeteria. The Elementary and Secondary School Act, Title I Part A requires that each Title I school hold an annual meeting for the parents and families whose children receive Title I Services informing you of the school's participation in Title I, Part A, explaining the requirement of Title I, Part A and explaining your rights and opportunities as parents and families to be involved in your child's learning and achievement.


Crossett Elementary is hosting a Math and Literacy event tonight, September 8, from 5:30 to 7:00 p.m. Come see what students are learning in our classrooms. We will meet in the cafeteria and then dismiss into teachers' classrooms.


The September Board Meeting will be held at Crossett High School on Monday, September 19th at 5 p.m. This is a change from the original location and date. 

As we start the 2022-23 school year, we are all aware that variants of the COVID-19 virus continue to impact our community. There is an uptick in COVID-19 positive cases in our area at this time. We are also heading into cold and flu season. To help promote a clean environment for learning, the school district has: Hand sanitizer in classrooms and sanitizer stations throughout the buildings Touchless water refilling stations Reinforcing the importance of personal hygiene (covering mouth when coughing/sneezing, proper hand washing, etc) High-touch area cleaning/sanitizing throughout the day Students who test positive for Covid-19 should isolate for five days, and are required to wear a mask for an additional five days after release of isolation. In addition, we ask that you notify the school should your child(ren) test positive for Covid-19 in order to correctly determine the isolation release date. At this time, no close contact quarantining is required per the CDC and Arkansas Department of Health. These guidelines are subject to change at any time. Please note that if your child is in Pre-K, guidelines and recommendations are different. Please call your Pre-K for specific recommendations for that age group of students. Symptoms of Covid-19 are similar to the regular seasonal flu and sinus infections and include fever, coughing, headache and shortness of breath. Some have reported additional symptoms, such as runny nose, sore throat, nausea, vomiting, diarrhea, lack of appetite, and loss of smell. Individuals who need medical care should call their medical providers to report their illnesses prior to seeking care at a clinic, physician's office, or hospital. If you have any questions, please do not hesitate to contact your child's school.

Crossett School District was excited to welcome new staff to the New Teacher Academy held July 28-29!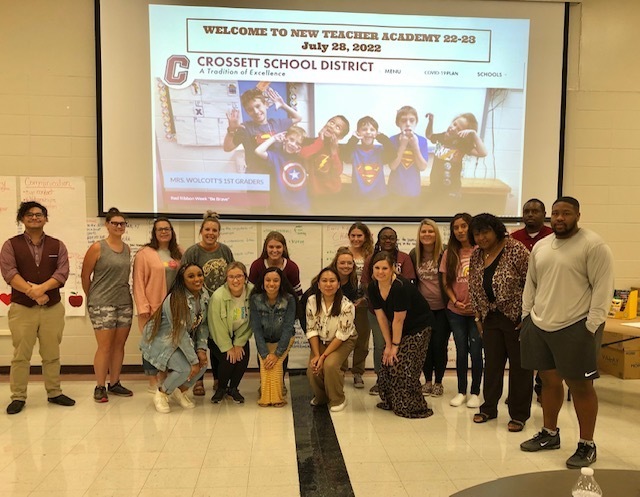 Crossett School District held a New Teacher Academy July 28-29 to welcome new staff to the 22-23 school year!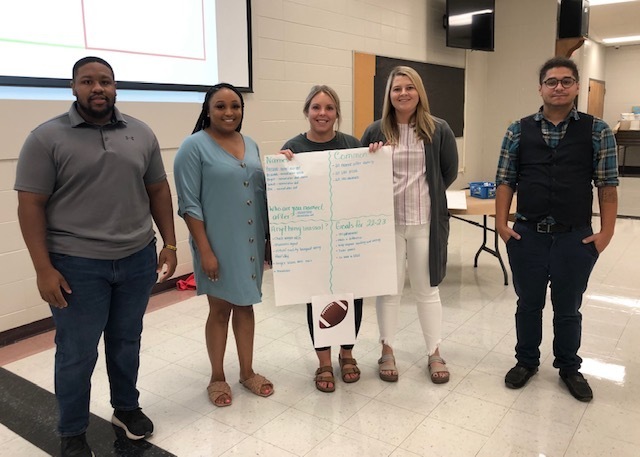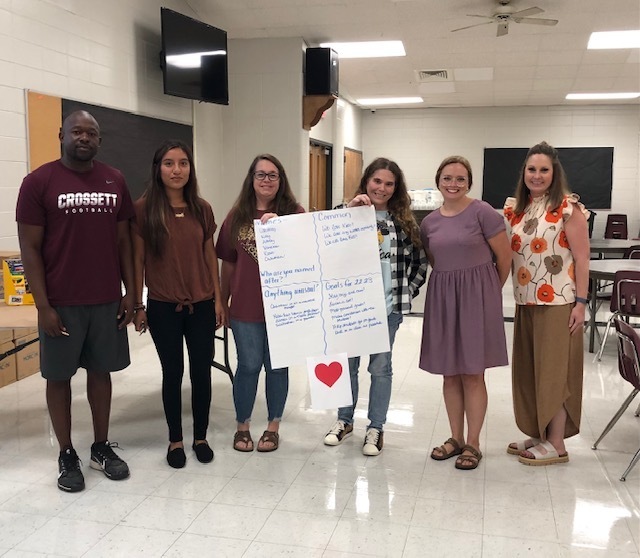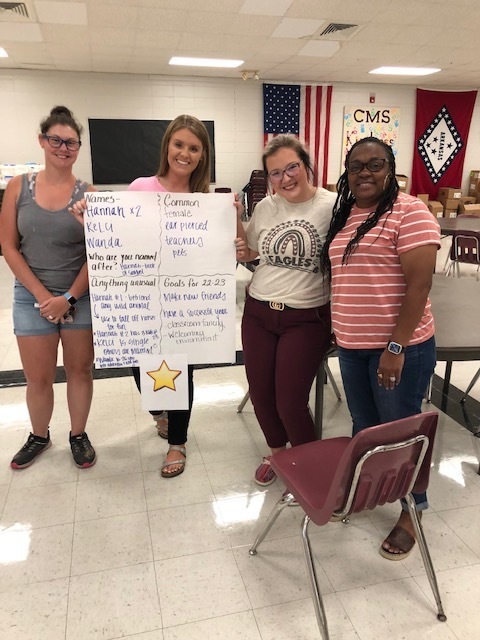 Teach Arkansas Grow Tomorrow, Today. Interested in a career in education? Arkansas students need you! Teach Arkansas is here to help you find a path to the classroom. Keep scrolling to find your path to teacher licensure with debt-free tuition, online course options and more. Follow this link for more information:
https://teacharkansas.org/

There is no federal waiver to provide free lunches for all students this year. We encourage everyone to complete a free/reduced meal application. Applications are available at 219 Main St., online at the link below, or you can wait until applications are mailed out next week. Forms need to be returned to 219 Main St. Student Meal Prices: Breakfast $1.00 & Lunch $2.50
https://www.crossettschools.org/page/free-and-reduced-application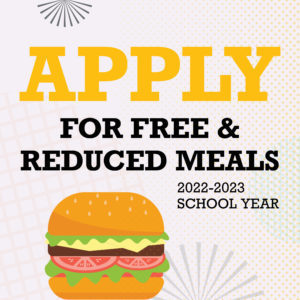 P-EBT Benefits- If you believe your student qualifies, please print and complete the application on our website or stop by 219 Main St. to complete an application. All completed applications need to be sent to or dropped by Crossett Schools, 219 Main St. The deadline for submission is July 29, 2022. If you have any questions, please call Cheryl Owens, Child Nutrition Director, at 870-364-3112.

Due to construction that is taking place at Yarborough Field, entry to the stadium will be closed to the public. Please utilize the paved parking lot to view the fireworks display this evening. Thank you and have a fun and safe Fourth of July weekend!

We have added a page to our website that contains information for the 22-23 school year! Currently, we have the district calendar and bus rider sign up form linked to the drop down menu. If you would like your child(ren) to ride the school bus this upcoming school year, be sure to visit the website and use the attached Google Form to sign them up! Please check back for more information as we get closer to August! School begins on August 15th! crossettschools.org


Boys and Girls Club PeeWee Football and Cheer Information

Crossett Eagles Youth Football Camp Information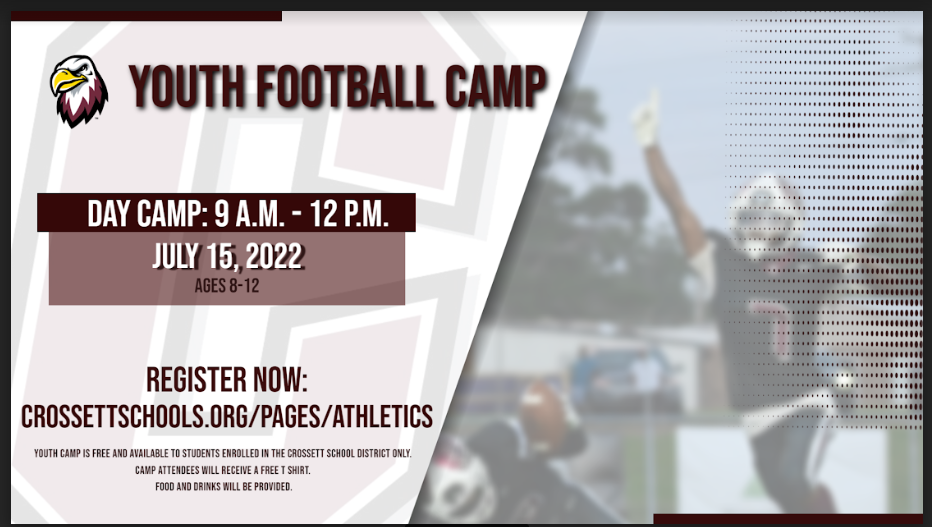 Crossett School District will offer a 7-12 Virtual option for the 2022-2023 school year. Please use this link to apply:
https://forms.gle/WpdQP8G1x77duCZN7
Students currently enrolled in the 7-12 Virtual Program, who want to remain in the program, will need to complete a new application for the 22-23 school year. Applications will be accepted May 16 through June 16, 2022. Once an application is completed and submitted, there will be a review of the application to determine if the student meets the requirements for enrollment. Parents/guardians will be notified by June 30 if the application is approved. Crossett's 7-12 Virtual Program is open to Home School students, too. For questions concerning enrollment in the 7-12 Virtual Program, please contact Barbara Garner, Assistant Superintendent through email or by phone. (
barbara.garner@crossettschools.org
/phone (870-364-3112).