News
School will be dismissed for Christmas Break December 23rd-January 3rd and students will also be out on Monday, January 6th while teachers attend Professional Development. Students will return on...

We have an exciting change this year! Our students will have multiple choices for breakfast and lunch! Follow the link to see each school's menu! https://crossettschools.nutrislice.com/menu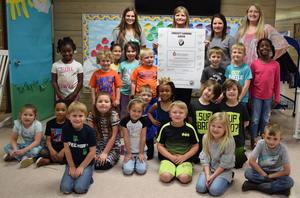 Crossett Learning Center students and staff show their support for education in Arkansas by signing the Commitment to Education certificate!
SEE ALL NEWS
Live Feed

19 of our students went to the Special Olympics State Bowling Tournament yesterday in Little Rock. They brought home 8 Gold medals, 5 Silver medals, 4 Bronze medals, 1- 4th place medal and 1- 5th place medal! They had a mixture of two 4 male teams, 1 mixed team(2 male, 2 female), 1 double female team, 3 individual bowlers and 2 bowlers who used ramps. The students truly enjoyed their trip and having the opportunity to compete! Mrs. Melissa, the teachers and the team want to thank everyone for supporting them! view image
3 days ago |
Crossett

Tickets for tomorrow night's semifinal game against Shiloh Christian are on pre-sale at the administration building for $6. There is no discount for early sales, this just helps you to avoid the possible long lines!
3 days ago |
Crossett

Results from the Special Olympics Bowling last Thursday- We had 29 students participate. We won 13 1st PLACE MEDALS, 11 2nd PLACE MEDALS, 5 3rd PLACE MEDALS We have 20 students who qualified to go to STATE in Little Rock on December 4th! They bowled their hearts out. It was an amazing day not just for the students, but for all of the teachers, volunteers and parents. Thank you for your support!
16 days ago |
Crossett

Below are the football play-off guidelines for preliminary rounds admission and passes per the Arkansas Activities Association: A. Gate admission prices are: Students and Adults - $6.00 B. The following shall be admitted without charge: 1. Cheerleaders in uniform. 2. Dance/Drill team in uniform. 3. Band members in uniform. 4. School groups that have been previously authorized to perform at the event. 5. Authorized AAA Identification Passes ( ONLY THE PERSON NAMED ON THE PASS MAY USE THE PASS. IDENTIFICATION WILL BE CHECKED) 6. AAA Media Press Credential Tag
18 days ago |
Crossett School District
SEE ALL posts